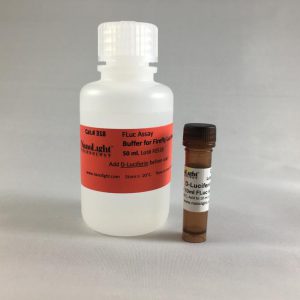 The NanoFuel® Assay kit for Firefly Luciferase kit provides enough buffer for approx. 1000 assays. Optimized buffer conditions will give you the best signal over a half-life of 45 min. Therefore no injection luminometer is required. This kit can be used for high-throughput screenings due to its steady signal.
Details & Info
Protocols & Data
Related Products
Publications
FLuc Assay Kit content

50 ml       FLuc Buffer – provides optimal reaction conditions

1 vial        Luciferin substrate (please add to buffer before use) 

Properties of

 

FLuc Assay Buffer

creates optimal conditions for FLuc
low background, thus higher S/N ratio
very high and steady signal
can be used in high-throughput experiments
NOTE:

 

this buffer does not contain any detergent,
intracellular expressed FLuc will require lysis
for intracellular assays a 5x Universal Lysis Buffer (Cat.#333) can be purchased, please select

 

"add lysis"

 

under product options

Suggested Articles

| | |
| --- | --- |
| PMID | 32057065 (view abstract) |
| Author | Vysotski ES |
| Date | 2020 Mar 1 |
| Journal | Photochemical & photobiological sciences : Official journal of the European Photochemistry Association and the European Society for Photobiology |

loading publications ...