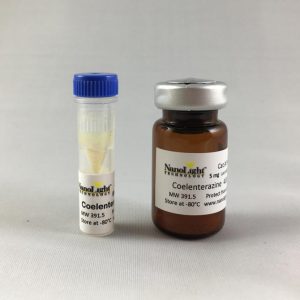 A substrate for Renilla luciferases (Rluc) but not Gaussia luciferase. It is used for real-time detection of calcium ions, gene reporter assays and a favored substrate for BRET. This derivative has an emission maximum around 400 nm and therefore minimal interference with the emission of the GFP acceptor.
Coelenterazine 400a is also know under the Perkin Elmer trademark DeepBlueC™.
We recommend using CAT#399 NanoFuel Solvent for dissolving and stabilizing native Coelenterazine.
Details & Info
Protocols & Data
Related Products
FAQs
Publications
| | |
| --- | --- |
| Compound ID | Coelenterazine 400a, 1-bisdeoxycoelenterazine, di-dehydrocoelenterazine, DeepBlueCTM |
| Molecular Formula | C26H21N3O |
| CAS# | 70217-82-2 |
| IUPAC Name | 2,8-DIBENZYL-6-PHENYL-IMIDAZO[1,2A]PYRAZIN-3-(7H)- 1; BISDEOXYCOELENTERAZINE |
| MW | 391.5 g/mol |

Package Contents:

500 ugs  – 1 vial of 500 ugs lyophilized CTZ 400a
1 mgs – 2 vials of 500 ugs lyophilized CTZ 400a
5 mgs – 1 vial of 5 mgs lyophilized CTZ 400a
10 mgs – 2 vials of 5 mgs lyophilized CTZ 400a

Advantages

pre-aliquoted in small amounts, fresh substrate for every set of experiments
long shelf-life (packed under Argon)
faster to dissolve due to its fine crystal structure
consistent quality between aliquotes

The luciferin is shipped as filtered, lyophilized, batch controlled substrate

Suggested Articles

| | |
| --- | --- |
| PMID | 18359861 (view abstract) |
| Author | von Arnim AG |
| Date | 2008 Apr |
| Journal | Protein science : a publication of the Protein Society |