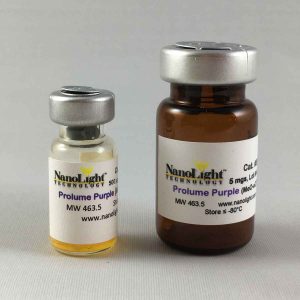 Prolume Purple or methoxy e-Coelenterazine (Me-O-e-CTZ) is a new synthetic analogue of e-Coelenterazine with an additional methoxy group quenching the emission maximum from 475 nm to 405 nm. Nanolight™ Technologies developed Prolume Purple. (US Patent 2013/057660)
Prolume Purple exhibits an up to 13-fold higher luminescence than CTZ400a ("deep blue C").
Details & Info
Protocols & Data
Related Products
Publications
| | |
| --- | --- |
| Compound ID | Prolume Purple (PP-CTZ) |
| Molecular Formula | C29H25N3O3 |
| Alternative Name | methoxy e-Coelenterazine (me-O-eCTZ) |
| MW | 463.53 |
| Application | emits around 405 nm with RLuc, RLucII, RLuc3, RLuc8 and Green Renilla Luc useful as a substrate in bioluminescence imaging (BLI) with near-infrared BRET partners. |
| Solvent |  We recommend NanoFuel Solvent. Low solubility in Ethanol |

Comparison to CTZ400a

Emission spec with Renilla Luciferases

The advantages of lyophilized luciferins are:

pre-aliquoted in small amounts, fresh substrate for every set of experiments
long shelf-life (packed under Argon)

The luciferin is shipped as filtered, lyophilized, batch controlled substrate

References

Near-infrared bioluminescent proteins for two-color multimodal imaging. Rumyantsev KA, Turoverov KK, Verkhusha VV. Nature Sci Rep. 2016 Nov 11; PMID: 27833162.

Comparison of PP-I to IV as substrates for a NIR BRET construct in bioluminescent imaging.

Monitoring G protein-coupled receptor and β-arrestin trafficking in live cells using enhanced bystander BRET. Namkung Y, Le Gouill C, Lukashova V, Kobayashi H, Hogue M, Khoury E, Song M, Bouvier M, Laporte SA.  Nat Commun. 2016 Jul  PubMed PMID: 27397672

Prolume Purple (Cat. #369) was enabling these researches to follow protein movement within a single cell in real-time for up to 20 min using a sophisticated BRET system.

Bioluminescence Assisted Switching and Fluorescence Imaging (BASFI)

Luyuan Zhang, Fang Xu, Zhixing Chen, Xinxin Zhu and Wei Min. J.Phys. Chem. Lett., 2013, 4, pp 3897-3902

Good overview on spectral properties of the Prolume Purple substrates.